Jerry Swift is in love with a pig that's why he wrote the following letter :
Babe, my love, my star, my sun, the second I met you I was caught in an emotional whirlwind. When I looked into your eyes, I knew my existence had just changed forever. You taught me that when you fall in love with an animal, you fall in love with life.

These moments spent, lying by your side, caressing your downy skin, fill my soul with light. Your soft grunt, everytime I hug you, is the most comforting music. In your eyes filled with sweetness, I see the most beautiful things in the universe. The joy I feel in laying my lips on your soft and moist snout, alone justifies all the pains of life. Snuggled up against you, I feel at the heart of the world, fromwhere all the positive energies spring before flooding the cosmos.

Babe, I dream of the day when all humans realize the infinite happiness of hugging an animal and saying to him orher"I love you".

I dream of the day when every animal, upon seeing one of my species, will recognize him or heras an affectionate friend.

We will then dance, all together, in a ballet of hair, feathers and scales, under a blue sky until the end of the time.

Babe, we say that every action, every thought of ours has repercussions for eternity, far beyond what we can imagine. I like to think that kissing you on the snout is the most beautiful and important thing I have done in my entire life.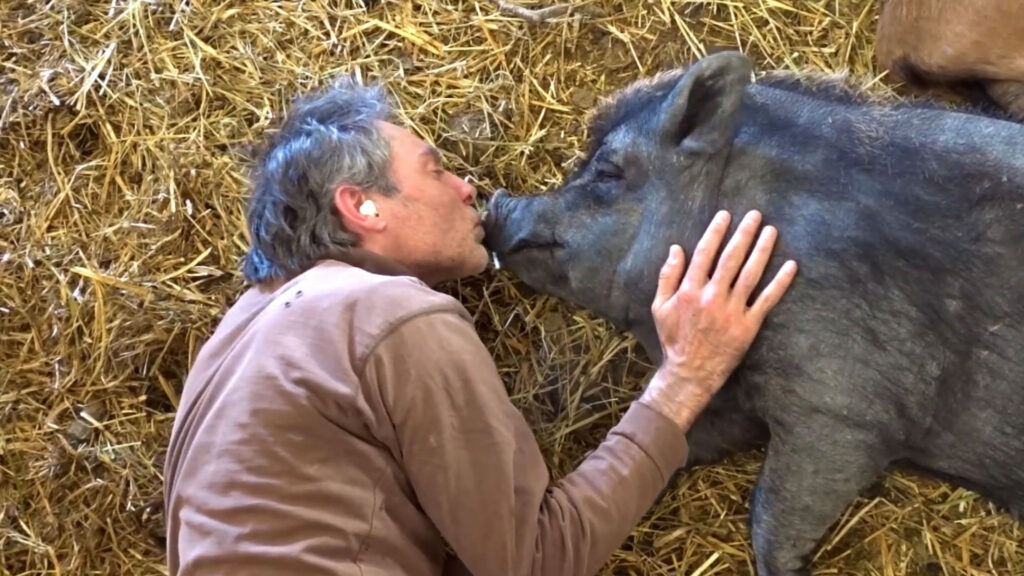 Yes ! after that we can really say that Jerry Swift is in love with a pig !
You can see more videos about Jerry Swift and animals by going on the following page :